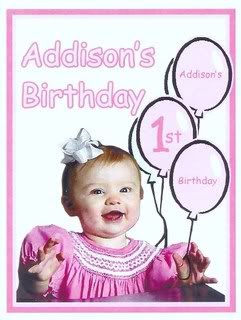 this icy day has been one of both bad news and good news.
the bad news first
(as ending on a good note is better than ending on a bad one)
:

my cousin's little girl, addison, is at kosair hospital. she has had a multitude of seizures since monday. mandi and josh, her parents, were returning home to elizabethtown monday afternoon when she had the first one in their driveway. addison just turned 1 a few weeks ago and up until monday had been deemed perfectly healthy.

mandi's sister, sue, lost control of her car and slid from one side of the road to the other several times before sliding off into a ditch. with the car on its side and two tires in the air, sue and her daughter, grace, had to climb out the passenger side of the car.

my brother called today on his lunch break to say he'd also been involved in a wreck this morning. he, too, lost control of his car on the ice, he hit a guard rail head-on, spun around, and then hit the back of his car on the guard rail.
~
@
~

the good news:
kosair has been able to get addison's seizures under control. her physician moved her from icu isolation to a regular room. hopefully after only a few more tests, she'll be good to go... as she hasn't had another seizure since kosairs got her medications regulated.

someone happened along allowing sue and grace to stay warm in her car until help could arrive. sue and grace made it safely home with only a few minor bumps and bruises.
oj made it to work in one piece, and his car is still in one piece as well.

thank you GOD for watching over my loved ones!
i love my family!
i love that addison got the care she needed!\
i love good samaritans!
love and God's blessings,
dani xxx