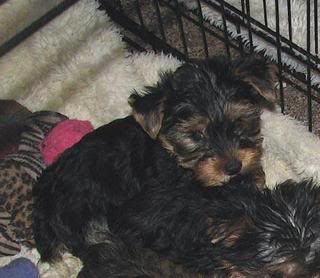 i have spent the better part of today "windows" shopping for a yorkie puppy for my aunt and uncle who lost their "quincy" a couple of weeks ago... you know, there are a lot of puppies available, but this puppy has to pass several specifications. the puppy needs to be a male, mostly black, not too small/not too large, short legs, and most importantly his ears need to flop as opposed to standing at attention, lol. the last requirement has been the hardest to fill since it is very important to the breeder that their yorkie pups ears stand up (if they do not, they are considered to be sub-standard). all this only to say they want another quincy!!!
i personally do not like the idea of shipping animals, so i only looked at puppies in kentucky, tennessee, and southern indiana. it was so much fun looking at them. puppies are so adorable.
btw, i also had to look at the king charles spaniels while i was at it. the breeder we bought maggie from currently has a ruby, which are relatively rare. omgosh, she is precious!!!

but, i could never do that to my baby; she would be so jealous and... well, jealous!!! she's such a baby, and, far be it from me to mess up the good thing she's got going here at the berrongs:D
ok, so, back ot... i found my aunt and uncle four puppies from which to choose:
two were located in horse branch, ky, one was located in williamsburg, ky (my personal favorite but also the farthest drive to get to it), and the last in mount carmel, il.
i really hope she finds what she is looking for in one of the pups; however, when i last talked to her this afternoon, she'd pretty much talked herself into getting two!!! so, we'll see:=)
i love my aunt and uncle.
i love puppies.
i really love king charles spaniel puppies (when i went to pick up my maggie i got all teary eyed as soon as i saw her. she was sooooooooooooooooo precious!!!)!!!
thank you, GOD, for my maggie...