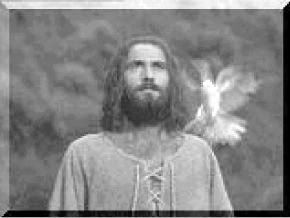 i was looking around earlier today at different blog sites in my network and ended up on dirtbucket's site. i cannot tell you the way i felt after having read his post other than maybe inspired, motivated, blessed, and wowed??? there really is no word nor words in the english language to describe the feeling i get when i'm touched by God directly nor indirectly; but i was touched by what dirtbucket had to say!!!

i have taken the liberty of putting a link to his blog with my other blog links (i hope you don't mind, matt:)

the following excerpt comes from the book of john chapter I:

10He was in the world, and though the world was made through him, the world did not recognize him. 11He came to that which was his own, but his own did not receive him. 12Yet to all who received him, to those who believed in his name, he gave the right to become children of God— 13children born not of natural descent,[c] nor of human decision or a husband's will, but born of God.(niv)

to me the above verses epitomize what matt was saying in his blog.

and further, something i realized when i was saved is this.... something john touches on in 12-13... although i was raised by family who spoke of God, Jesus, and the Holy Spirit, just knowing what my family believed, what the Bible said, and what the preacher preached did not make me a "child of GOD"!!! as far as i'm concerned that's the biggest fallacy of all. in my most honest opinion, it's that fallacy that makes the road much wider than the gates; and it's that fallacy that will keep many who believe they are believers from being allowed into heaven!!!

thank you God for opening my eyes to the fact that...

it didn't matter that i was born into a Christian minded family, that it was my devout, Christian grandmommie's wish that i, too, become a devout Christian, nor that i went to a building of worship 3 days a week to "worship" and volunteer. what mattered was the day i was born of GOD nine years ago!!! that day i called out to HIM in desperation. and, He answered my call and allowed a very, very flawed and empty me to be born again unto HIM and filled up with HIM and become a child of HIS!!!

it wasn't until that time that i even knew what it was to worship GOD. before, i'd just been going through the motions.

it was a feeling of shock and awe; it was a feeling of being so full of unconditional love i thought i was going to burst; it was a most blissful feeling of humbleness; and most importantly a feeling of knowing that HE was my Father and i was HIS child and nothing of this world could change that. it was PEACE in EVERY sense of the word!!!

my name is dani berrong; and i am a Jesus freak:D
thank you, GOD, for using matt to remind me of that!!!
my GOD, the only GOD, is an awesome GOD!!! and i thank HIM for reigning me in just when i may not realize it but i need HIM most!!!
and i love HIM even more than r's love, love, love!!!