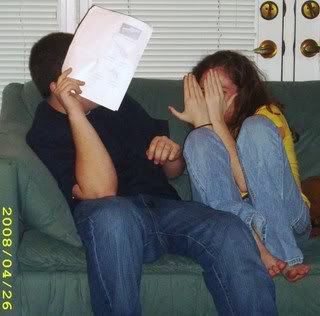 (jason and my domestic diva)

katherine has her boyfriend over every saturday night for a date (as i will not let her "go out" nor "car date" until she is 16, which is creeping up on me and making me wish all those years ago that i hadn't firmly committed to 16 being the magic number).

YIKES!!!

anyway, every saturday night jason comes over, i order them pizza (except for the one week they wanted mcdonalds???), i usually bake them cookies and they sit together in the parlor (aka the den, lol!!!) i also always have to remind kat to offer him something to drink, eat, etc...

tonight john went to the country for a fish fry at his sister's church. so, instead of ordering pizza, i told katherine just to bake the digiorno pizza we had in the freezer and the peanut butter, chocolate chip cookies i had in the fridge. "ok," she said. (katherine is not very domestic.)

at about 8:20 i went into the kitchen to fix myself a glass of tea. they were sitting on the couch watching a movie. "kat, did you bake the pizza?" i asked. she grinned her silly sideways grin and shook her head as jason shook his. "it's twenty minutes after eight," i said to her, "don't you think you should cook it since jason will be leaving at ten??? he's probably hungry."

"poor jason!!!" is all i have to say about that!!!

she got up from the couch, came into the kitchen, started pre-heating the oven, and resumed her position on the couch. i got the cookie dough, the cookie sheet, and the parchment paper out and prepared the cookies to be baked. i told her that she needed to bake the cookies on 350 for 15 minutes.

"hey, i think i'm going to make those first. will you reset the temperature on the oven for me, please?" she replied.

so, of course, i did.

about 30 minutes later, i went back into the kitchen to get another glass of tea... i looked over at the stove top to see the cookie sheet shy a whole row of cookies.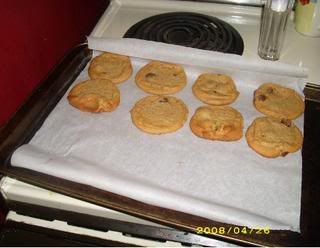 (the cookies are JUMBO... much bigger than they look.)

"have you already fixed your pizza?" i asked... jason and katherine shook their heads, "no" in unison (they are really getting good at that).

"why didn't you fix the pizza???" i inquired.

"because we ate the cookies instead!!!" my daughter replied.

("well, duh!!!" i thought to myself as i rolled my eyes at her, shook my head, and left the kitchen.)

when she ever gets married, i pity the poor guy...

love and blessings,
dani