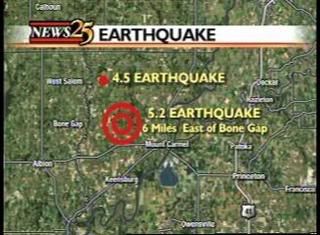 the lane was today!!!

at 4:36 am cdt i awoke to our house shaking. i turned to john and asked him if we were having an earthquake. he replied, "yep, i think we are..." it went on for a few more seconds during which time katherine came into our bedroom rubbing her eyes and got into bed with us as she asked if we were having an earthquake.
we don't have quakes here often. the last one of this magnitude occurred the year before i was born(1968). we've only had two other small ones since in 1987 and in 2002.

after my bicycle post,
i'm almost embarrassed to say this,
but, my engineering degree...
well, it is in safety and health.
hence, many worst-case-scenarios
things went through my mind:
what if the aftershock is worse?
i really should have put together a survival kit!
i wonder if the water in the pool is drinkable?
where's the gas shut-off?
ok, i take a roll of toilet paper, place it in a coffee can, douse the full roll in alcohol, and light it in order to put together a make-shift cooking apparatus.
omGOSH! the coffee can we have in the kitchen is plastic:/
i really should have put together a survival kit!
should we just lie here, should we all grab a doorway in which to stand, or should we get under our bed?
yikes, there's too much junk under our bed to get beneath it!
i really should have put together a survival kit!
we should turn on the tv and see what the local news is saying...
"john, don't you think we should turn on the tv..."
(it was a rhetorical question; the remote was on his side of the bed.)
"no," he replied, "it was just an earthquake. it has stopped."

awkward silence...
did he just say just.an.earthquake.?
he handed me the remote control. all that was on was the world news
(the local news doesn't begin until 5am),
but i was sure the local network would break in any moment with information. so, there we lay, john on his back to my left, katherine on her back to my far right, maggie next to me on her side with her legs stretched out towards katherine, and i
(extremely concerned)
smashed on my side taking up my 1/16th of our queen sized bed,,,
about two whole minutes later, john told me to turn off the tv and go back to sleep as there had been no talk of the quake on the television and he'd heard no sirens.
sigh!

that husband of mine!

i turned off the television and counted the minutes until the alarm sounded for john to get up for work. finally, the sound of the alarm!
~
@
~
when he got out of the bed, i turned back on the tv, and rolled over to his side of the bed. the morning anchors were discussing the quake as information was pouring in by phone, email, and fax. within just a few minutes we found that the epicenter was located about 50 miles away in mt. carmel, illinois, the quake was originally reported as having been registered as a 5.4
(later a 5.2)
on the richter scale, and it had lasted close to a full minute.

as john was leaving he told me i really needed to turn the tv off so that katherine could get some more sleep before school. i nodded, he kissed me bye, and left. i didn't turn off the tv;D it's actually been on since, LOL... according to the local news, the quake was felt as far west as idaho, north as michigan and chicago, illinois, and as far southeast as atlanta, georgia, the epicenter had received at least 6 aftershocks, and we felt another aftershock right before noon measuring 4.6...

"strange"
is the only word i can think of to describe it...
just.plain.strange.
prayers that all are safe!!!
love and God's blessings,
dani xxx